The process for land division in South Australia can be quite complex and believe it or not, is ever changing. A land surveyor in Adelaide can help guide you through the process to help ensure there are no delays in your project.
The process of dividing your house or land into two (or more) allotments, either in a Torrens or Community Titled scheme usually follows a similar process every time.
With strategic decision making along the way, the process can be completed in a timely fashion to help you achieve your development goals.
In this article we explain the basic steps of the land division and help clarify why they might take longer than you expect.
In this article you also may find some handy tips to help you speed the whole process up. A good land surveyor will be able to give you tips along the way as well, all you need to do is ask them!
---
Land Division Guide
Download our helpful guide to land division for an in depth flow of a standard land division application in South Australia.
Preliminary Investigation
The first step of your land division should be to determine if the land division is actually possible.
Every property in metropolitan Adelaide and South Australia is located within a Development Zone. The development zone that your property is located in can be accessed via PlanSA. PlanSA has all the information you need to see if you can divide your property.
Sometimes however, there is too much information to read through in the Zone and it is best to seek the advice of either the Council or a professional.
In the case of a land division proposal, a land surveying firm in South Australia will usually be able to provide some guidance on the requirements for land division for your property.
The best advice will most likely come from a surveying firm that has experience in town planning and employs qualified planning staff.
Typically, advice on whether your land can be subdivided can be provided, along with an associated quote for land division, within 24-48 hours of an inquiry being made.
If it is determined that a land division on your property may require some negotiation with the Council, or may require additional information to a more straight forward land division, your planning advisors should outline the reasons for this detail in their advice.
Many land surveying firms will usually provide this advice for free. Indicative plans or other concept plans may attract a small fee for the time and resources involved to prepare a plan.
In some circumstances, your consultant may suggest that a little more investigation than normal. This may also include speaking direct with Council Planners and other industry professionals in order to provide the most complete set of information to assist the decision making process.
If a more detailed investigation is suggested, expect that the preliminary investigation process of a land division to take longer than the 24-48 hours suggested for a simple investigation.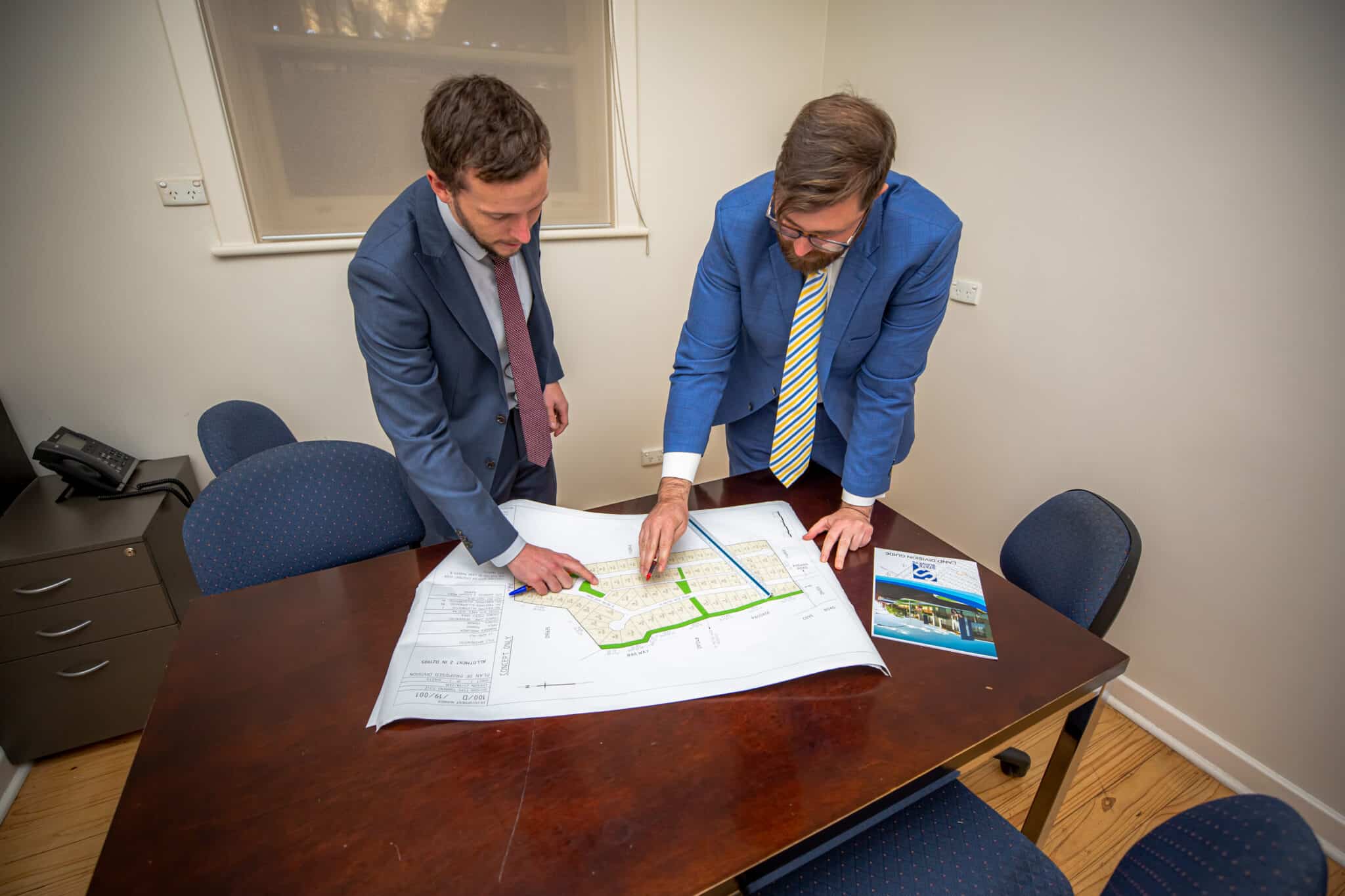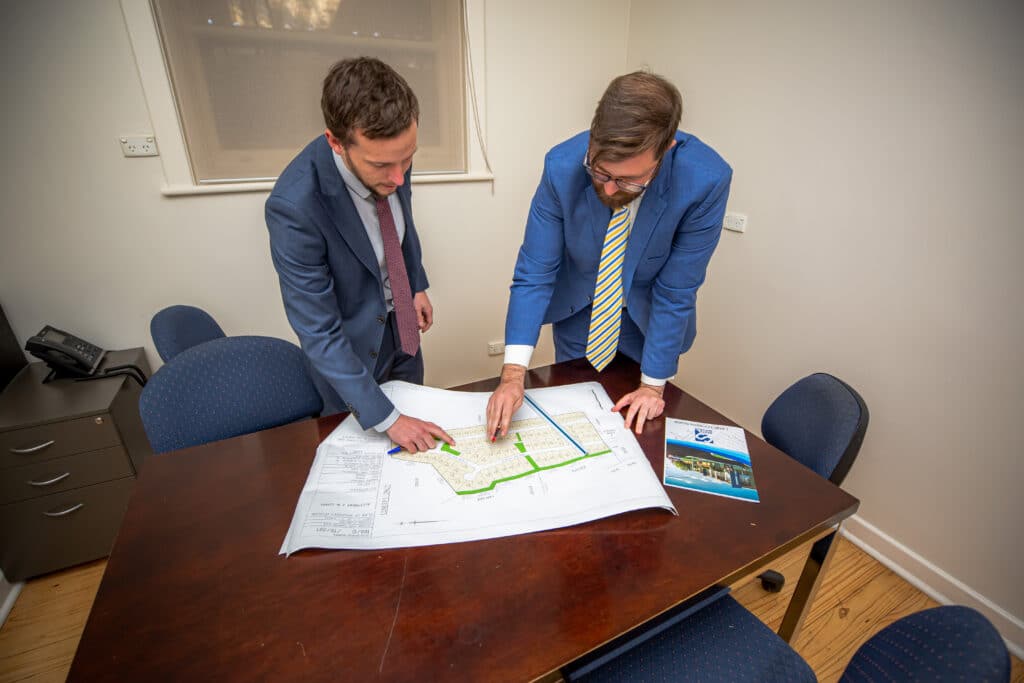 Plan Preparation
Once you have determined that you want to proceed with a land division, your land surveyor will be able to prepare a land division proposal plan.
A proposal plan can be prepared without the need to go to your property, however, in many cases your surveyor may suggest that some preliminary survey work (usually a detail and levels survey) is completed to support your application.
How long does a land division proposal take to prepare?
If preliminary survey work is required:
approximately 1-2 weeks to prepare.
If no preliminary survey work is required
2-4 business days to be completed.
While preliminary survey work may add some time to the plan preparation, it will almost always save you approximately 2-3 weeks of Council assessment time.
In some cases, further information such as building designs, tree reports, engineering reports etc. may be required to support your application as well.
Once a plan has been prepared, all the relevant supporting information and once any outstanding invoices paid, your land surveyor will be able to lodge the application for assessment with the relevant Council via the State Commission Assessment Panel.
Council Assessment and Approval
The Planning Development and Infrastructure (General) Regulations 2017 provides statutory time frames for the assessment of all Development Applications. 
For most Land Divisions, the maximum time frame for assessment 90 business days. 
Depending on the complexity of the application, most land divisions are dealt with within six (6) to eight (8) weeks.
Within the assessment period, the Council planner that is assessing your application may ask for further information to be provided.
Throughout this period your consultant will correspond directly with you as the client, the Council and other agencies as required, responding to queries and providing further clarification should it be required.
A land surveying firm with staff that have an-depth knowledge of the planning system within South Australia helps to ensure your application moves as smoothly as possible through the system.
If you haven't done so already, this is the time to lodge the relevant paperwork for demolition and make arrangements to have the Gas and Electricity disconnected to the property.
Water and sewer services do not need to be disconnected during a land division as SA Water will allow you to keep them to service the new allotments.
Demolition and Site Preparation
Once the Council approval for Land Division has been granted, there are likely to be a number of conditions that are required to be met before you can achieve your new titles.
If you are proposing to demolish an existing house or other building on the land, demolition of that building will be a condition on an approval.
Whilst the Land Division Application is under assessment, it is possible to demolish and prepare the site for sub-division but we recommend that you speak your consultant about this as there can be risks in demolishing prior to receiving Land Division Approval.
If a land use approval has been previously granted, you may be able to save a significant amount of time and can potentially shave six (6) weeks of the entire process.
A land division development is essentially placed on hold after a Council approval, until the site is clear and ready for the boundary survey to take place.
This step is often where the process is held up the most.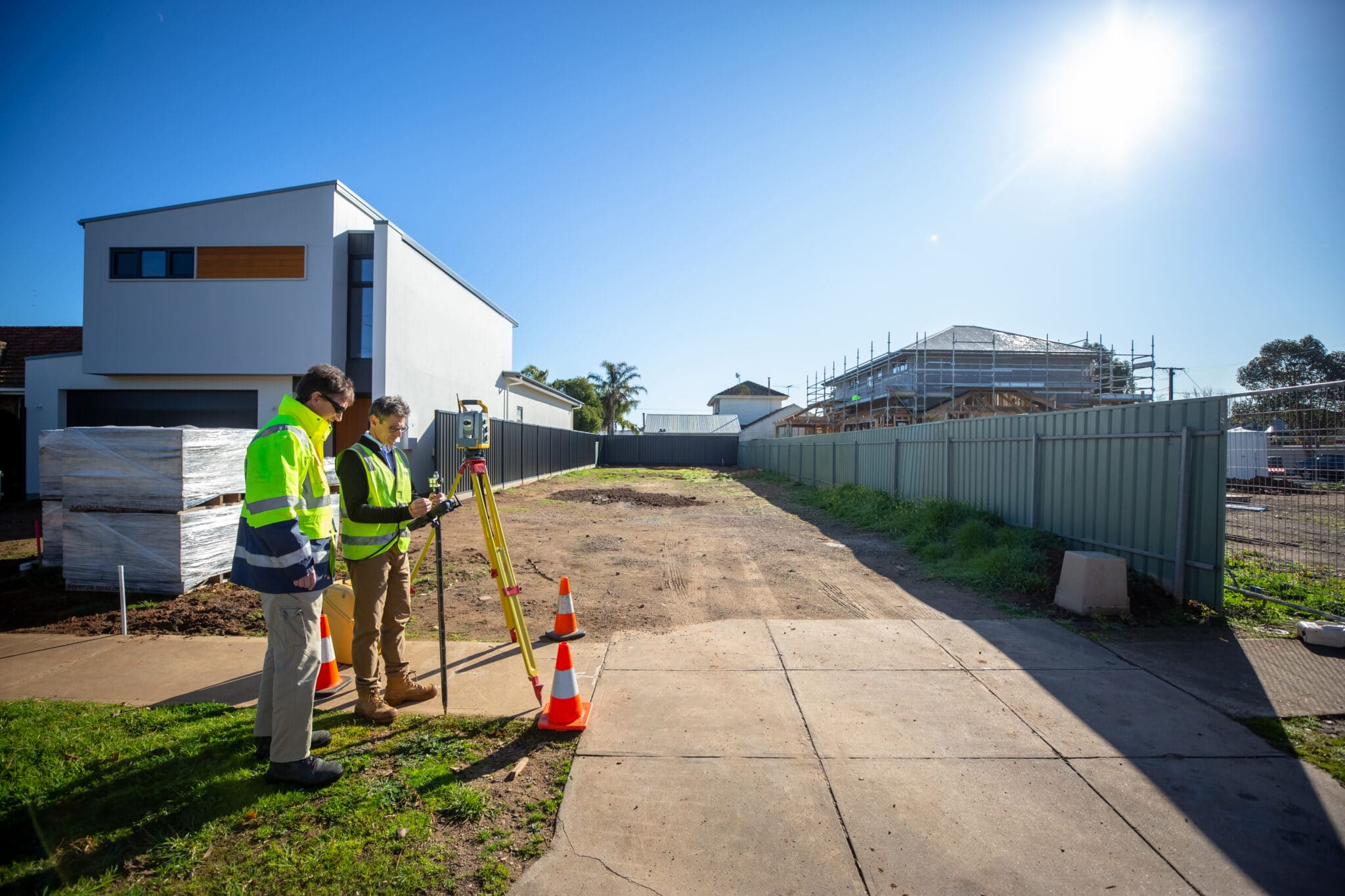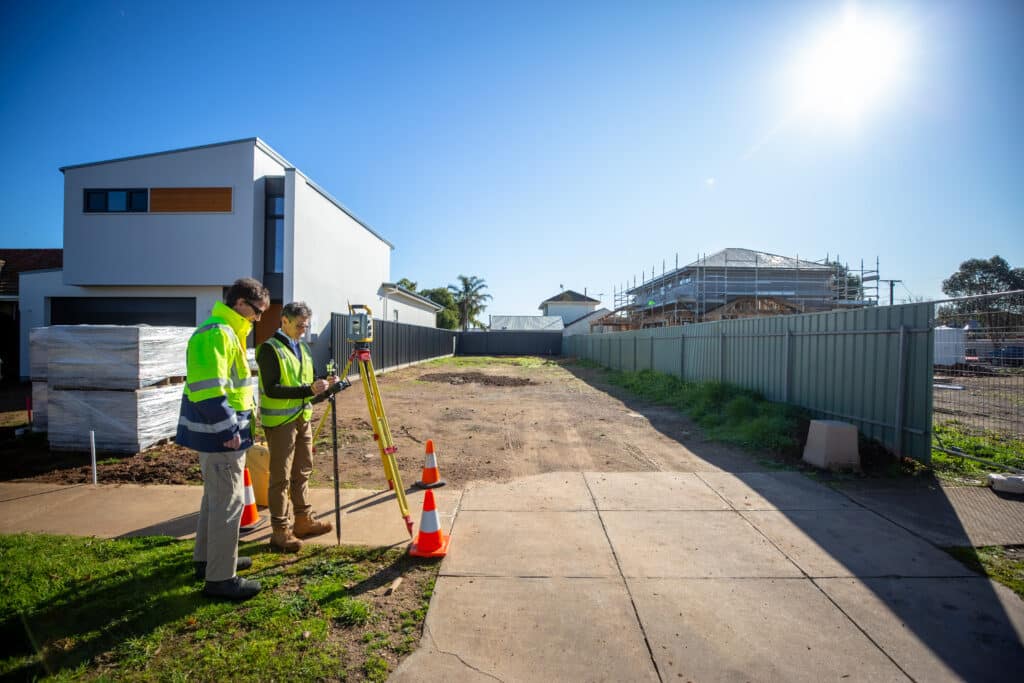 Surveying and Boundary Marking
Once a site has been cleared and is vacant, your property can be surveyed and the boundaries marked by a Licensed Surveyor.
Following the survey you will receive a Pegging Plan and a Final Survey Plan (which will be lodged at the Lands Titles Office) for your records.
Your surveyor will then also make arrangements for SA Water to prepare their invoice and ensure the Council Conditions of Consent have been met along with providing details of the relevant Open Space Fund Payment.
Conveyancing
This is often an underestimated part of the project. It is strongly encouraged that you speak to a conveyancer at the beginning of the project.
Your surveyor can send your conveyancer the most recent plans which will allow them to be working behind the scenes to prepare the relevant paperwork for your financial institution.
Once all requirements have been met for the subdivision, your surveyor will pass on the final paperwork to finalise the process and ensure new Certificates of Titles are issued. 
Stacey Du Bois
17/10/2022
Highly recommend State Surveys, they were efficient and great communicators throughout the whole process.
Had a really good experience with State Surveys. Extremely effective communication and helpful staff. Camille Gill is an absolute super star. I just want to thank her personally for being such a great first point of contact. Would definitely recommend and with any luck, use them again.
I highly recommend the service of State Surveys. I can summarize my experience in one word i.e. Excellent. Arthur, Ruhi and Nick have been spontaneous with their service, and they had an effective communication from the start to the end. State Surveys are flexible in their approach and do everything possible to meet objectives. Keep up the good work guys. Cheers
I was recommended by someone else to use State Surveys and now I happily recommend them to others. Nick and the team were fantastic the whole way through my subdivision, they always answered all of my questions no matter how trivial they seemed. Great work guys keep it up.
The team were professional and easy to deal with especially Nick whom I dealt with the whole process.
Fantastic service - would definitely use them again
Steve Bartlett
01/08/2021
I've been dealing with the team at State Surveys for over 10 years with subdivision and building projects. Outstanding customer service and knowledge, completely smooth process everytime and I'll continue to deal with them. Thanks to Nick and the team for your continued teamwork. 👍👍
State Surveys provided excellent professional service and advice throughout the process of pegging, surveying and subdivision. They attended to concerns promptly and were very accommodating during a period where numerous changes were required. All at a reasonable price. I thoroughly recommend them.
Who can I speak to?
State Surveys have built a team of consultants, surveyors, planners and have the backing of a knowledgeable administration team to provide you with the best service for your Land Division in Adelaide.
Contact State Surveys' team of experts to discuss how we can help speed up your land division project to save you both time and money on your development.